I had a dream. But did I sleep?
Have you ever stayed awake for 48 hours because you wanted to make it perfect? Imagine that you prepared a perfect thesis and overdid it with last-minute improvements just before the presentation started – and then suddenly it did not make too much sense. Well, similar
disasters sometimes come when introducing innovations
. That's exactly what happened with Bitfold's MVP right before going public. But let's start from the beginning.
Merging the unmergeable
In the beginning, there was the idea of a completely new technological solution. In 2017
Kamil
was a young and highly fascinated crypto investor dreaming of a device he could use to securely store his assets. Since 2014 he was exploring various self-custody devices and systems, and yet none of them could be described as both safe and easy to use. Then it occurred to him! It was simple and sophisticated at the same time.
The perfect solution should merge the advantages of hot and cold wallets into one.
He shared the idea with his classmate, and the latter suggested asking his brother, who used to deal with electronics. Luckily, it didn't need to be told twice and after getting acquainted with the idea, Rafał – our current Senior Hardware Engineer willingly stepped in. And so,
the first step to the pre-prototype of Bitfold has been done.
Picking up the stuff
2018 was busy: sleepless nights, raising pre-seed funding, crypto meltdown, patent applications, and work on Bitfold PCB design. It took a year to overcome the biggest challenge – placing 3 processors on a smartphone-size PCB. After a few iterations there it was – Rafał finished the pre-prototype of our PCB.
See how the first Bitfold PCB was produced. The next big challenge was the development team and further funding. During that bear market period people were questioning crypto real value, Bitcoin was ranging between, and on top of that 2020 pandemic did not make our task any easier. This was the moment when we reached out to our network and decided to apply for an R&D grant. As first-time applicants, we had no idea what we are signing for. Fast forward and many sleepless nice later, we had our core team of top industry experts signed up for developing the project. In November 2020 the verdict came, and we received up to PLN 21,3M from the NCBR – this was a critical moment when Kamil's idea truly gained momentum. The dream of Bitfold's own laboratory has finally come true.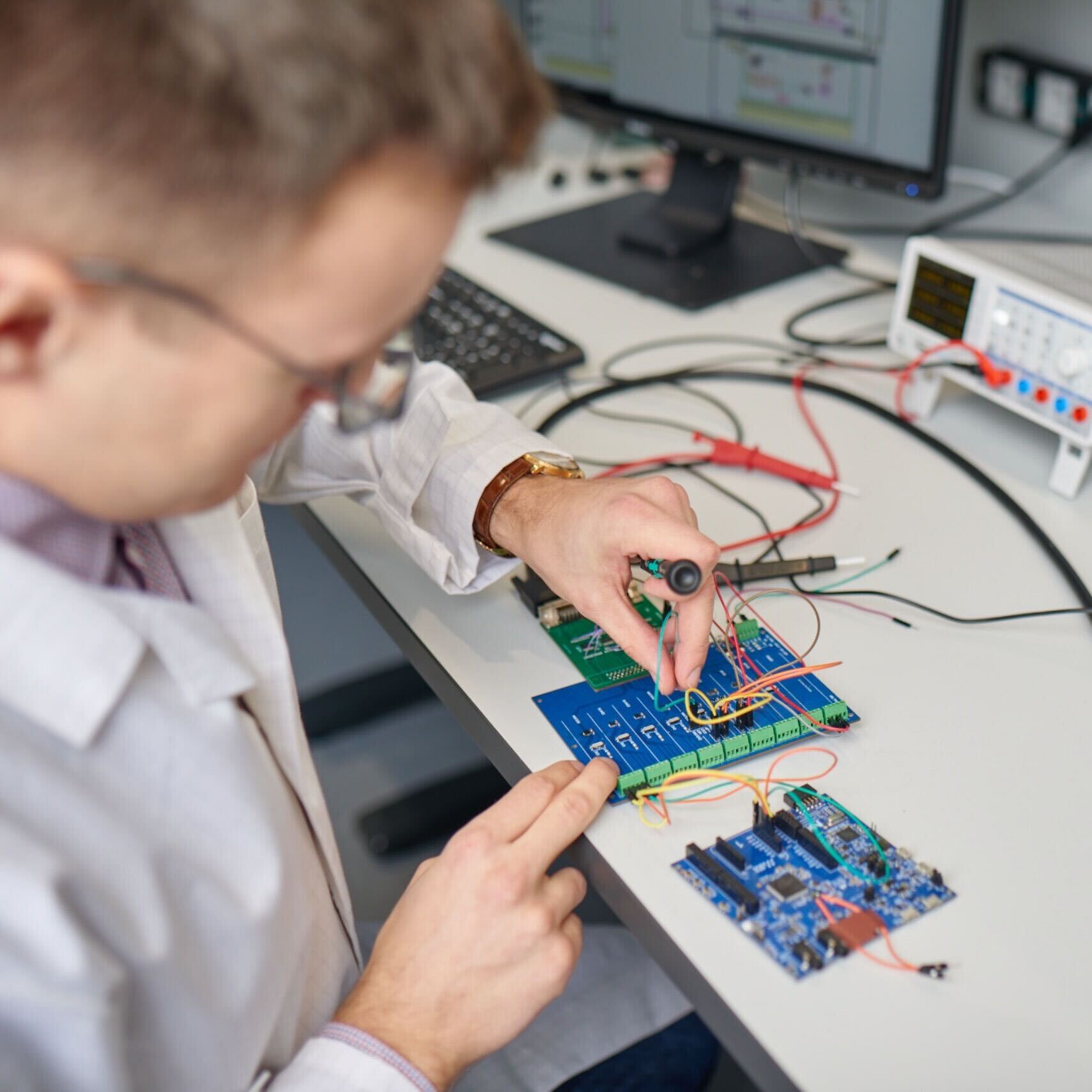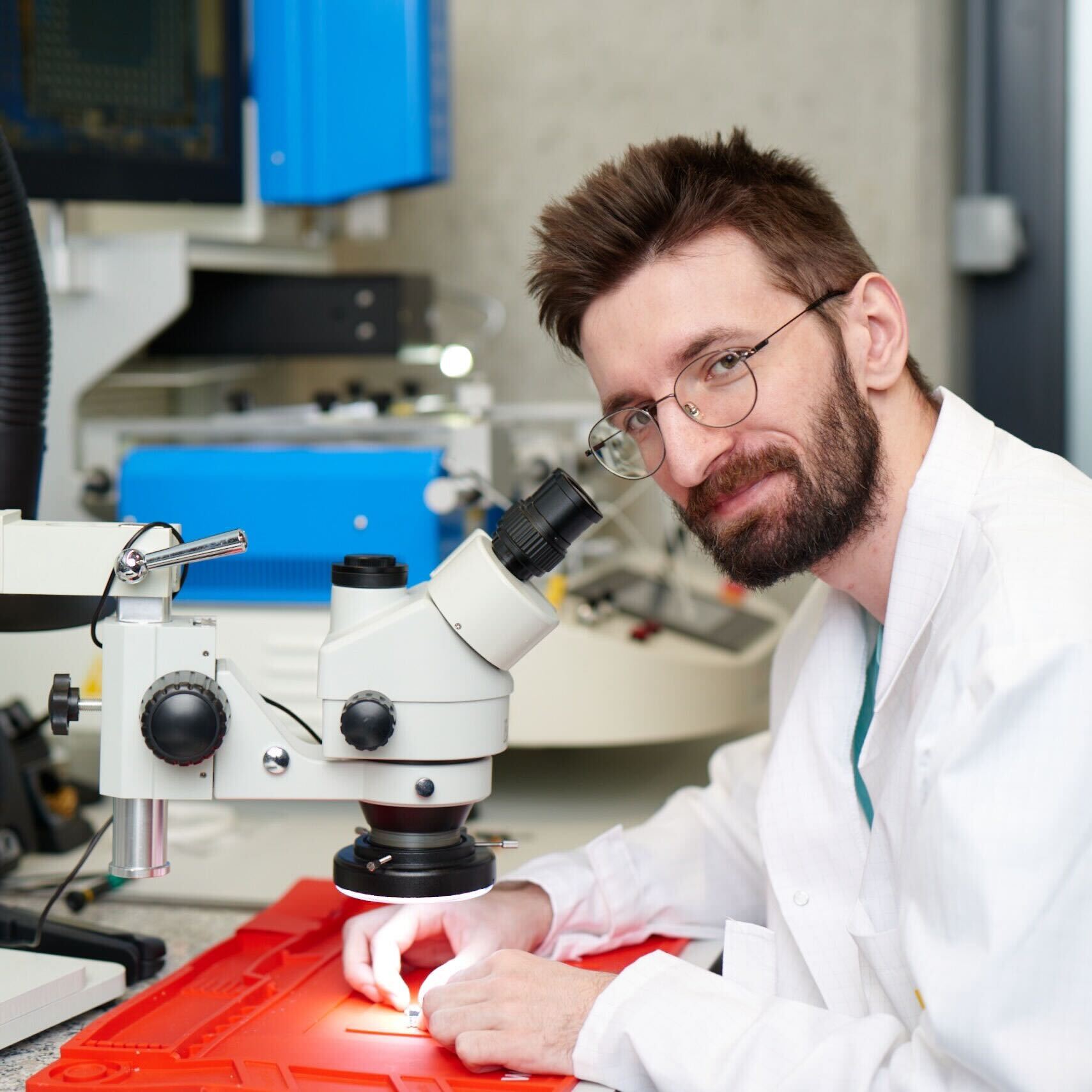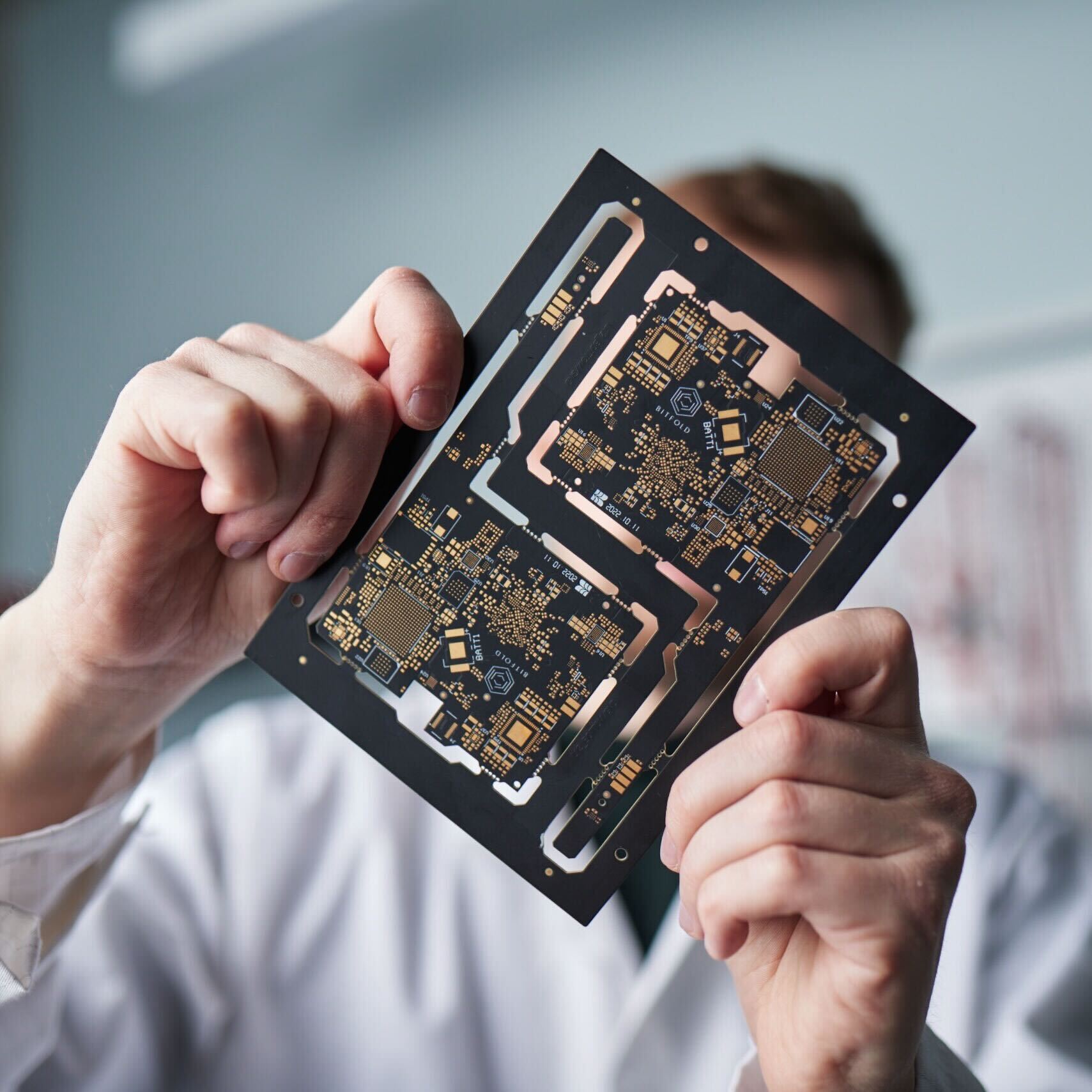 Becoming self-made
Gathering best-in-class professionals in electronics, cybersecurity, and blockchain we have reinvented Bitfold architecture.
Nevertheless, we were facing a chip shortage on the market that has been dragging on since the beginning of the pandemic. This temporarily slowed the work on the project, but in the long term, it forced the team to optimize laboratory work, purchase new equipment, hire new staff, and become somewhat independent of the turmoil. Despite all odds, Bitfold MVP came to live in record time and was presented for the first time in April 2022. Days before the premiere the development team was asked to "fix a minor issue". Well, this small change resulted in the insomnia of our engineers for 48 hours just before the event, and the working MVP was delivered literally minutes before the presentation! Fortunately, all went well (but not without surprises), and
we have successfully sent crypto to our audience from the first-ever Bitfold MVP.
And what next?
This was just the first step. We have proven that it is possible to interact with digital space in an easy yet secure way. We are on a mission to bring this technology to users worldwide. But before that happens… Interested in what is our next step?
Stay tuned, we shall reveal another milestone of our journey soon.
Featuring:
Kamil Gancarz
and
Jakub Żurawiński